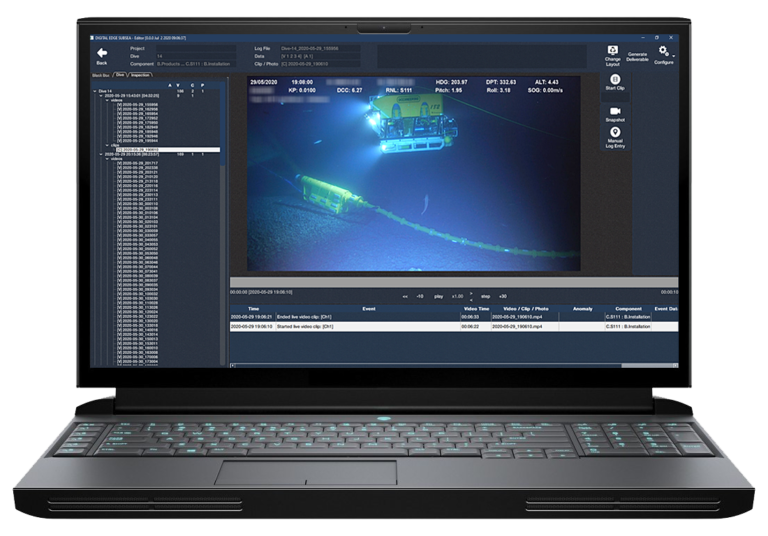 Digital EdgeDVR Laptop
Availability: Rental, Sale
Addressing the need for portability or limited space, Digital Edge Subsea now introduces the EdgeDVR laptop. With a total storage capacity of 6TB, the 17" laptop has the same capabilities as the rack mounted system and 4 channel HD recording capability.
The system can be configured with 2 x USB capture devices (for smaller surveys) or a high-speed Thunderbolt enclosure which contains the capture hardware offering more input possibilities (for larger surveys).
Survey data is stored on 3 x 2TB internal solid state hard drives for increased speed and reliability. The Windows 10 Pro operating system is stored on a separate internal 256GB solid state hard drive.
It is also available in the 3 version of software: Lite, Edge and Pro to accomodate your needs.
Features
4 Channel Recording
Online Video Clips & Photos
3 Hardware Models – SD,HD & 4K
Automatic Dive, Photo, Video & Anomaly Logs
User Configurable Eventing
4 Serial Inputs
4 Channel Digital Overlay
Multibeam Sonar Recording and Control
Offline Editor – Offline Video clips and Photos
Offline Eventing
Import/Export Workpack
Task Based Inspection Workpack
Report Generation
Built-in Blackbox Recording
Network Video Streaming
Network Viewer
Client Viewer