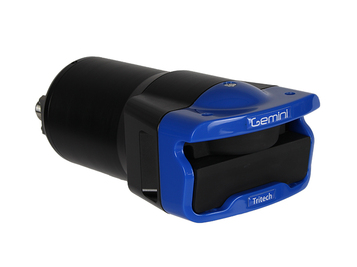 Tritech Gemini 720is
Availability: Rental
The 720is is the latest generation from Tritech's renowned multibeam sonar range and offers a real-time, high frequency imaging solution. The Gemini 720is operates at 720kHz and this combined with Tritech's state-of-the-art processing electronics, produces images of superb clarity. This latest design is ideal for pan and tilt mounting on observation class ROVs.
With a 120° field of view and a fast update rate of 30Hz, the Gemini 720is is ideal for poor visibility environments.
The Gemini 720is is supplied with Seanet Pro, Tritech's data acquisition and logging software, which offers users the ability to network and operate the sonar along with a range of other Tritech sensors from a single software interface. The Gemini standalone software also provides users with additional control over the Gemini 720is and can be upgraded to Gemini SeaTec to provide a variety of target classification and tracking capabilities. The capability to record data in a range of digital video formats and output screen shots for review comes as standard.
Features
720kHz operating frequency
Wide 120° field of view
Real-time updates for video like imagery
Integrated velocimeter for accurate ranging
Ethernet or VDSL communications
Software Development Kit available
SeeByte target tracking capability
CONTACT General sales enquiries
+47 52 81 47 60 (24 hour)