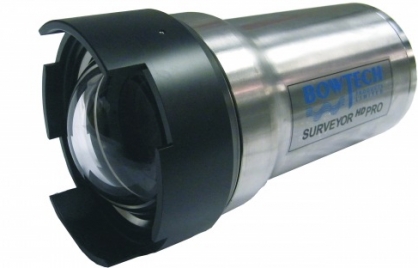 Teledyne Bowtech Surveyor-HD PRO Ultra-wide Angle Camera
Availability: Rental
The Bowtech Products SURVEYOR-HD PRO ultra-wide angle underwater HDTV camera is designed to provide the viewer a greater angle of view, from the standard Surveyor HD, whilst remaining compact and very competitively priced. The camera is ideal for ROV inspection tasks, scientific observation and broadcast applications. Video output is available as HD or HD-SDI over fibre.
Video output is available as component (Y/Pb/Pr), utilising standard connectors or HD-SDI on hybrid 75Ω coaxial or fibre optic connectors, a composite video output is also available.
The camera is available in a variety of control formats, including the Bowtech Products' GUI, which facilitates the control of all features including white balance, auto tracking and back light compensation, which can be switched on or off using the GUI.
Excellent images are obtained, through the fused silica hemispherical window and the camera is ideal for overall scenes and close-up inspection. The camera uses a Bluetooth tablet for control setup. The optics are fully corrected for geometric and chromatic aberration.
The camera is housed within a 4,000 metre rated titanium housing, with a 6,000 metre option and has a fused silica hemispherical window.
Features
High Definition 1080p
Fully Geometric and Chromatic Aberration Water Corrected Optics
Component, HD-SDI or HD-SDI Over Fibre Output
100° Ultra-wide Diagonal Angle of View
4,000 or 6,000 Metre Rated Titanium Housing