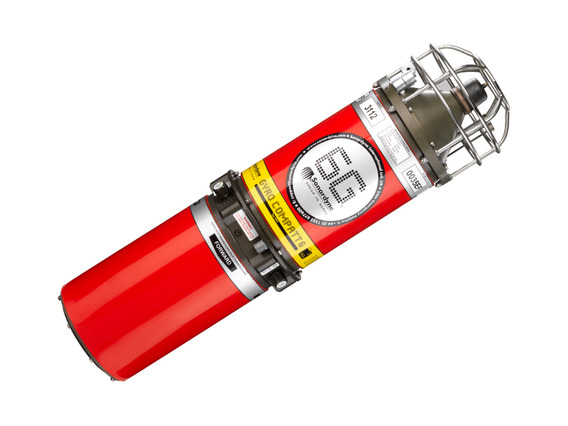 Sonardyne Lodestar Gyro Compatt 6
Availability: Rental
The Lodestar GyroCompatt (LGC) integrates Sonardyne's Wideband® acoustic positioning and Lodestar Attitude and Hearing Reference Technology (in one small, highly versatile and robust instrument). This provides high update rate wireless attitude, heading, heave, surge, sway, pressure, SV and acoustic positioning of any subsea object.
Compatible with USBL and LBL positioning systems, the Lodestar GyroCompatt product family provides real time motion data for structure deployment via the integrated high speed acoustic modem.
The internal high capacity rechargeable battery pack enables quick charge times and up to 20 hours of continuous operation with the ability to turn the gyro on and off to save battery life giving over two months of transponder life. The instrument is small and light enough to be ROV installed and a mechanical stab enables precision alignment to any structure.
Applications
Structure position and orientation can be accurately determined during lowering, set-down and as-built surveys. Using the Lodestar GyroCompatt 6 for metrology delivers the measurements required for pipe-end coupling.
The stab, gyro and transducer are pre-aligned and this speeds up spot measurements as only single observations are required.
Autonomous logging negates the need for a vessel and ROV to be on standby taking measurement during long term settlement observations.
Modular construction allows for upgrade and service access to the transponder module.
Features
Incorporates Sonardyne's 6G® Technology
Incorporates Sonardyne's Wideband®2 signal Technology
Sonardyne Wideband® acoustic positioning transponder and Lodestar AHRS unit in a single subsea housing
Rechargeable 20 hour internal battery pack; option for external power
Acoustic and manual ROV On/Off switch for Lodestar AHRS
Upgradable to LBL aided INS
Sonardyne Wideband® and Kongsberg HPR 400 compatible
Autonomous data logging mode (sensor data and ranges)
Faster command and configuration
Simultaneous ranging and sensor data recovery in one transmission
Integrated sound speed and pressure sensor with an additional port for auxiliary sensors
Real time diagnostics on range measurements for quality control
High speed acoustic modem
Compact size for ease of handling and ROV deployment/recovery
Data telegram output and 24 V available for ROV displays
Lodestar IMO certifie