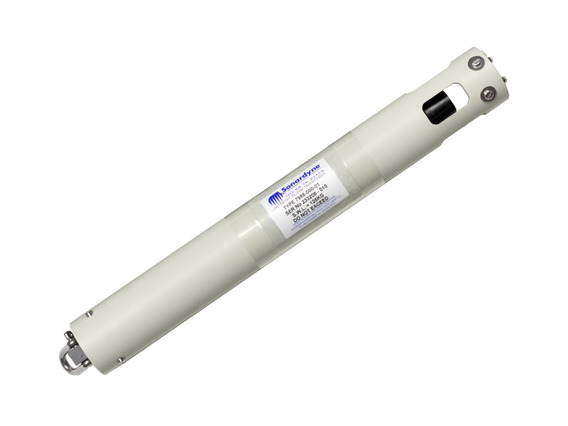 Sonardyne Lighweight Release Transponder 7986
Availability: Rental
The Type 7986 Lightweight Release Transponder (LRT) has been developed from transponders capable of accurately positioning hundreds of seismic receiver nodes.
It has both receive and transmit functions, unlike similar low-cost release transponders, enabling accurate slant ranges to be measured, release actuation to be confirmed and its position to be accurately determined.
The LRT is depth rated to 500 metres making it the ideal choice for use in continental shelf waters. Field replaceable alkaline or lithium battery packs give a listening life of 18 months and 51 months respectively. A 'screw-off' release mechanism ensures a positive release action that overcomes any biological growth and all external parts are made of high strength plastics that provide excellent environmental corrosion resistance.
LRTs are controlled using the Type 7967 Deck Unit comprising a low-cost deck unit and remote transducer on 10 metres of cable. The deck unit is initially used to program the acoustic identity of the LRT, test the transponder and load the release nut prior to deployment. Once deployed, the deck unit can measure ranges to the transponder and prior to sending a secure release command, relocate the transponder. The deck unit can be controlled via RS232 enabling raw range data to be logged to a PC.
The transponder is compatible with Sonardyne's ROV-Homer and Homer-Pro target relocation systems. Deployed at a point of interest and weeks or years later, the LRT can be interrogated to provide range and direction guidance to a ROV pilot or diver wishing to home back on to it.
Furthermore, the transponder's exact seabed co-ordinates can be quickly and easily determined using Sonardyne's Prospector system, calibrated from a dGPS positioned vessel.
A rope canister is also available for pop-up buoy applications, with 75, 120 or 160m lengths of high breaking-strain rope.
As an option, the LRT can give an indication that it is tilted beyond 30° from vertical using the acoustic link, allowing warning of incorrect string deployment before leaving the site.
Features
Safe Working Load of 125kg
Depth rated to 500 metres
Over 4 years deployment with long-life Lithium battery pack
Thousands of secure identities; field programmable with deck unit
Reliable, 'screw-off' release
Rugged, compact design
Compatible with Scout USBL, ROV-Homer, Homer-Pro and Prospector positioning / relocation systems
Optional rope canister with 75 metres of 1200kg breaking-strain rope
Optional tilt indication if ±30° off vertical