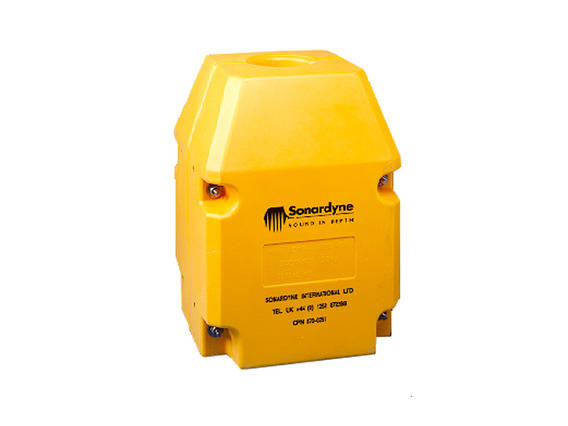 Sonardyne Floatation Collars
Availability: Rental
Sonardyne's range of subsurface floatation collars enable acoustic navigation and positioning transponders to be deployed, moored on the seabed and then recovered to the surface.
The floats are compatible with all Sonardyne's latest generation Compatt 6 and DPT Wideband transponders as well as previous generation Mk 5 & 4 Compatts. They can be used with directional and omni-directional transducer types
Manufactured from high performance materials appropriate to the required depth rating, each float assembly comes in two halves and is clamped around the transponder using stainless steel fixings.
Bright colours ensure good visibility, either when subsea and viewed from an ROV's camera or when floating on the surface prior to recovery.
Once on the surface, the floatation collar is designed so that the transponder floats in a downward position insuring that the acoustic transducer is kept submerged. This can assist with relocating the transponder using a vessel-based acoustic positioning system and also protects the acoustic transducer during recovery back onboard.
Type 5807 is a 5,000 metre depth rated floatation collar designed specifically for use with Sonardyne's range of Directional Compatt 5 and DPT acoustic transponders. It has improved hydro-dynamic properties, permitting a 50% faster speed of ascent then earlier models, saving vessel time.
The unique shape of the Type 5807 floatation collar allows a transponder to be installed such that the unit is acoustically shielded from localised noise interference and also afforded increased protection from accidental physical damage whilst deployed.
Other Use Cases
Features
Manufactured from syntactic foam core encapsulated within a high visibility polyurethane elastomer coating
Lifting eyelet inserts incorporated to ease transponder deployment and recovery
Designed to stack, not roll, on the vessel deck
Available in 1,000, 3,000, 5,000 and 7,000 metre depth ratings
Provides reliable long term deployment and recovery of Sonardyne Compatt 6 , compat 5 and DPT transponders when fitted with directional transducers
Unique hydrodynamic shape provides fast, stable ascent to the surface