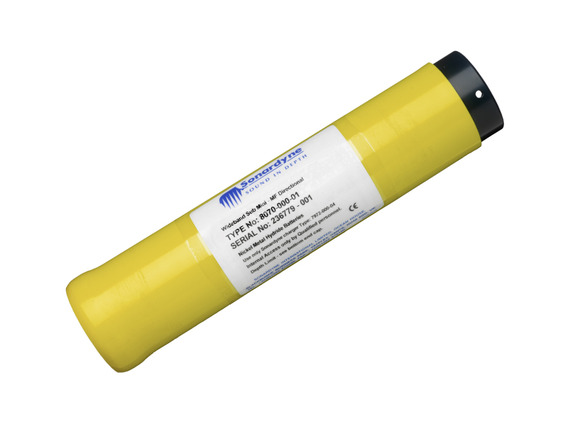 Sonardyne 8070 Wideband Sub-Mini
Availability: Rental
WSM is our previous generation release transponder which has now been replaced by WMT 6. Although the WSM transponder is no longer available to purchase, Sonardyne still offers full after sales technical support including spares, repairs and servicing for this product.
The Type 8070 Dual Release Wideband Sub-Mini (WSM) is a 4,000 metre rated transponder/ responder designed for positioning seabed equipment packages, ROVs, towfish and other subsea targets.
This versatile and compact unit features a high-power directional transducer and incorporates Sonardyne Wideband® Technology which offers superior ranging accuracy, operation in a multi-user, multi-vessel environment and fast USBL position updates.
In addition to supporting new Sonardyne Wideband® signals, all WSMs also support traditional Sonardyne tone and HPR 300 and HiPAP® channels. A link allows the WSM to be configured for use with all of the popular acoustic navigation systems.
The Type 8070 External Release WSM differs from standard WSMs in that it has the ability to activate an external release mechanism in order to recover the WSM and any equipment package that it maybe attached to, back up to the surface.
Two external release options are available; a dual contact closure actuation where the power for the release mechanism is provided externally to the WSM (Version 04) or a dual voltage output where the battery voltage of the WSM is used to drive the release directly (Version 08). This version is compatible with Sonardyne's Type 8083-000-01 release mechanism. The type of release function required must be specified at the time of ordering. The depth sensor fitted to standard WSMs is not available on the 04 or 08 version units.
WSMs are also available in 1,000 metre and 4,000 metre versions without an external release capability.
Other Use Cases
Features
Incorporates Sonardyne's latest Wideband Technology
4,000 Metre depth rating
Choice of release options; dual contact closure (XRCC) or dual voltage output (XRVO)
Channel selection via serial data port by PC
Transponder or Responder operating modes
Long-life NiMH battery
Compact and rugged design
Windows based software for test and setup
External On/Off switch for ease of use and storage