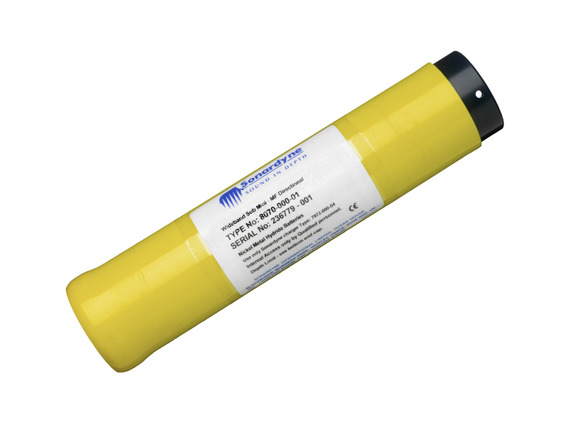 Sonardyne 7973 SSM
Availability: Rental
Sonardyne's range of Super Sub-Mini Transponder/Responders (SSMs) represents the latest design developments in the acoustic positioning of ROVs, towfish and other subsea targets.
The Type 7973 Super Sub-Mini isdepth rated to 1,000 metres and has an omni-directional beam pattern that gives a wide area of acoustic coverage.
For improved positioning accuracy, a built-in pressure transducer provides depth; this can be telemetered to Sonardyne's USBL systems as part of the positioning cycle. A dual external channel selection control, or serial data link, allows the SSM to be used with all of the popular acoustic navigation systems.
The unit's 'bilingual personality' mode automatically senses the type of positioning system interrogating it and switches mode accordingly. In addition, Super Sub-Minis now support more Sonardyne frequencies and all HPR 300 and HiPAP® channels.
Options for the Type 7973 SSM include a remote transducer that provides added flexibility when sitting the unit on smaller vehicles and a floatation collar to enable seabed deployment.
Features
Depth telemetry capability with 1,000 Metre rated sensor
2,000 Metre and 4,000 Metre SSMs also available (Type 7970)
Directional Beamshape with class leading acoustic power output
Channel selection via dual external controls or serial data port by PC
Long-life, fast charging NiMH battery
Optional remote transducer
Provides greater flexibility when deciding where to install unit on vehicle
Ideal for small ROVs and towfish