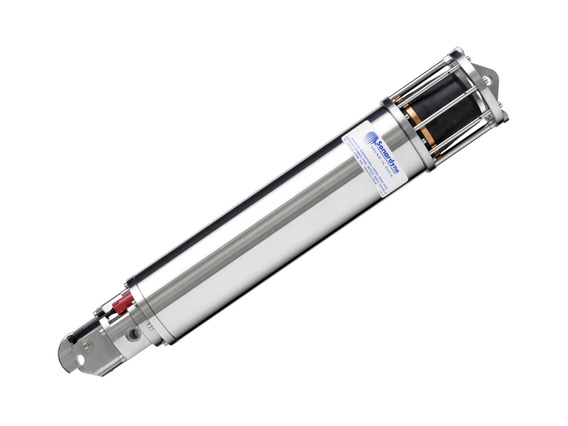 Sonardyne 7710 DORT
Availability: Rental
Oceanographic Release Transponders (ORTs) and Deep Oceanographic Release Transponders (DORTs) are tough, reliable acoustic releases designed for deployment in either 2,000 metres or 6,000 metres of water.
The units are commonly used to moor oceanographic instrument strings on the seabed for periods of up to 36 months. However, their compact size allows them to be easily incorporated into subsea instrument frames or installed on towfish and AUVs to enable ballast to be dropped in an emergency.
Standard features include a Safe Working Load of 1,275kg (at 4:1) and a spring-assisted release mechanism. This type of release mechanism was originally developed by Sonardyne for navigation transponders supplied to the offshore industry of which there are now many thousands reliably in service around the world.
ORTs and DORTs are controlled using frequency band specific Lightweight Command Units (LCU) which comprises of a dunking transducer connected either to a spray-proof Psion or, via supplied software, to any PC. For security of operation, a special coding system provides protection against accidental release by noise and acoustic transmissions from other vessels.
Features
Standard Safe Working Load of 1,275kg (Options for heavier loads)
Up to 50 tonnes SWL with optional heavy duty release frame
2,000 Metre or 6,000 Metre depth rated options
Highly reliable release mechanism
Up to 2 years deployment
Excellent corrosion resistance
Compact and rugged design
CONTACT General sales enquiries
+47 52 81 47 60 (24 hour)