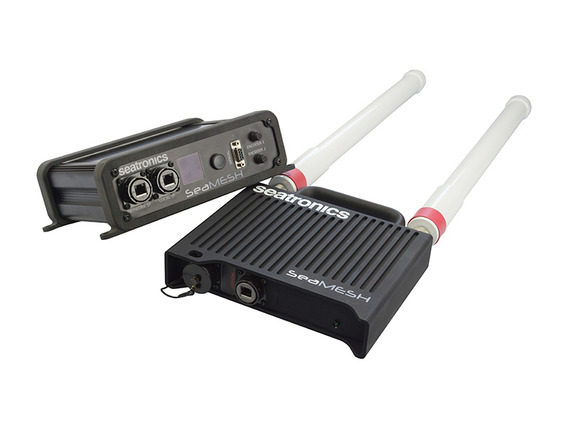 Seatronics SeaMESH
Availability: Rental
SeaMesh provides a high capacity wireless mesh network system between vessels operating at sea. SeaMesh can be used to exchange video, system data, voice and general network traffic between suitably equipped vessels.
The SeaMesh system is a Wireless Mesh IP communications system designed specifically for offshore operation. SeaMesh allows up to 16 vessels to share IP traffic in a wireless mesh network. A capacity of up to 8.9Mb/s is offered by SeaMesh enabling broadband communications to enabled vessels. The SeaMesh network is self forming, fluid and self healing, there is no central point of control. Each link within the SeaMesh network can be up to and over 10km* (frequency and range dependent) in distance. SeaMesh can exchange any type of typical network traffic, including voice, video and general IP.
SeaMesh consists of a rugged outdoor unit with simple mounting arrangements and a simple indoor interface unit which supplies power, network interfaces and is equipped with two IP video encoders. The indoor unit provides user feedback on network and wireless performance. The indoor and outdoor unit are connected via a single 50m cable supplied with the system. The SeaMesh is the ideal solution for connecting vessels performing combined operations such as complex drilling operations, oil spill recovery or decommissioning operations, construction projects etc.
Features
Wireless Mesh Network
Fluid and self healing
Up to 8.9Mb/s of traffic
General IP traffic supported
Up to and over 10km* range pn a link
Ideal for joint operations
Simple to install and operate
No subscription costs
Available for sale or rental