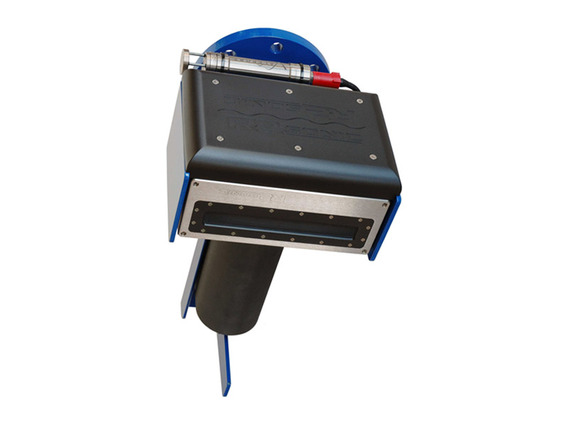 R2Sonic 2022 Multibeam Echosounder
Availability: Rental, Sale
The Sonic 2022 is a compact wideband shallow water multibeam echosounder, suitable for a wide variety of general mapping applications. As with the higher resolution Sonic 2024 system, the Sonic 2022 provides over 20 selectable operating frequencies to chose from within the 200 to 400 kHz band, with unparalleled flexibility to trade off resolution and range and controlling interference from other active acoustic systems.
In addition to selectable operating frequencies, the Sonic 2024 provides variable swath coverage selections from 10° to 160° as well as ability to rotate the swath sector. Both the frequency and swath coverage may be selected 'on-the-fly', in real-time during survey operations.
Features
Portability
60% the size of full length Sonic 2024 receive array.
Ideal for integration to small AUV, ROV or small boat operations.
Versatile
Bathymetry with optional TruePix™ Backscatter, Raw Water Column and Forward Looking Sonar imagery.
Wideband Operation
Over 20x User Selectable Frequencies from 200 to 400kHz, selectable on the fly, in real-time during survey operations.
Highest Resolution & Accuracy
Focused 1° x 1° beamwidths
60kHz Signal Bandwidth over entire frequency range.
True Range Resolution of 1.25 cm, all frequencies.
Productive
Selectable swath coverage from 10° to 160°, selectable on the fly, in real-time during survey operations.
1 to 500m range.
Ease of Operation
Embedded signal processor and Controller.
Sonar user interface from Survey application software PC.
Low weight, volume & power consumption (less than 35 Watts).
Compelling value
Economical entry level multibeam system without sacrifice to survey quality
Latest Advanced Technology.
Industry leading 3-year limited warranty.
Value priced
Trade-in rebate for older technology systems.