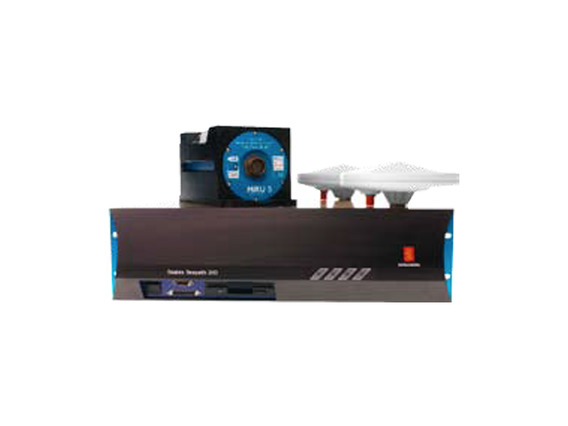 Kongsberg Seapath 200
Availability: Rental
The Seapath 200 provides highly accurate, real-time heading, attitude and position information by blending the best characteristics of sensor-based inertial navigation and GPS continuous position update technologies. High-rate motion data obtained from the system's IMU (Inertial Measurements Unit) and precise position data from two, fixed baseline GPS carrier-phase receivers are integrated in a Kalman Filter within the Seapath Processing Unit. Based on analysis and extensive field testing, the Kalman Filter algorithms have been refined to insure maximum measurement fidelity and reliability.
The Seapath 200 IMU contains highly accurate linear accelerometers and Bosch Coriolis force angular rate gyros (CFG). Real-world precision accuracy is guaranteed by utilising the most accurate calibration methods and sophisticated production equipment available. Roll and pitch accuracy together with the linear acceleration performance are documented for each delivered IMU on a Calibration Certificate.
Features
0.02° in documented roll and pitch dynamic accuracy.
No accuracy degradation in roll, pitch and heave measurements during turns
Robust against GPS dropouts with IMU sensor-based backup
Reliable and robust DGPS position ensured by combining up to six different correction signals
Supports EGNOS/WAAS (SBAS) corrections
Highly accurate heading during and after turns compared to heading from standard gyrocompasses
All data have the same time stamp and the output is available in real-time
Outputs on RS-232, RS-422 and Ethernet
100 Hz update rate
Simple and error free installation ensured by using the graphical configuration software
System performance specification extensively tested and verified with a Honeywell INS system as the reference system
2-years warranty
The range of Seapth Models: Seapath 100, Seapath 200, Seapath 200 RTK and Seapath 200 M (with military receivers) suits a large numbers of Applications.