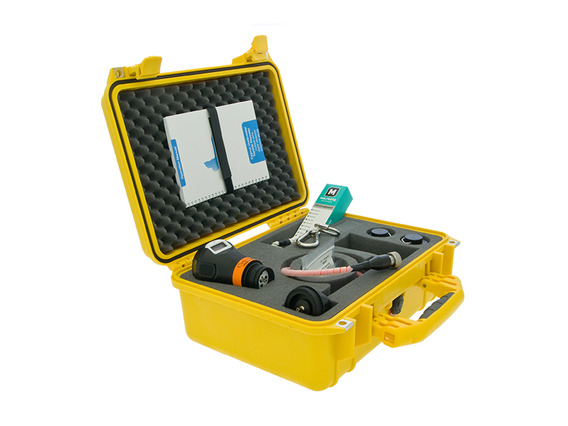 Cygnus Mini ROV Ultrasonic Thickness Gauge
Availability: Rental
The Cygnus Underwater is the original diver held subsea multiple echo Ultrasonic Thickness Gauge. It was designed for use by divers undertaking subsea maintenance and surveys 3 decades ago… and today it is still the industry standard.
The unit is depth rated to 300 metres and it provides an accurate metal thickness measurement through coatings up to 20mm thick. The bright LED display ensures easy viewing even in poor visibility conditions.
The Underwater Thickness Gauge is supplied ready to use as a complete kit with 2 rechargeable batteries in a protective carry case.
Features
Auto – Probe Recognition (APR)
"Deep-Coat" mode for measuring through coatings up to 20 mm thick
Easy calibration using convenient buttons
Rugged, durable, shock-proof construction
Stable calibration – linear accuracy – no zero adjustment
Large bright LED display for poor visibility
Pressure rated to 300 m depth
Heavy duty sealed unit with double 'O' ring protection
Remote probe with 0.9 m lead for measuring in awkward locations
Self verification of measurements to ensure accuracy
Echo strength indicator to aid measurement
All probes are protected by a membrane to prevent damage
Various probe options
Two rechargeable battery packs with charger
Fixed head probe option for single handed use