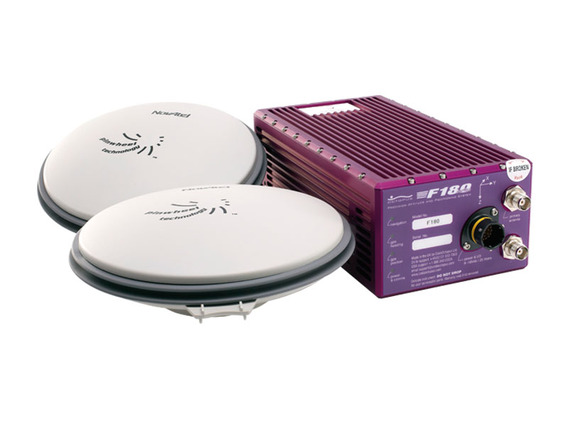 Coda Octopus F180 Series
Availability: Rental
The F180 series is a range of GPS aided attitude and positioning systems that provide high quality and precise reference data for a number of marine applications including multibeam surveys and dynamic positioning projects. Blending together GNSS information with an inertial engine, the F180 series outputs Kalman filtered heading, position, heave, pitch and roll variables even in the most demanding of offshore conditions.
With dedicated MOTION software, each model within the F180 series can be mobilised and calibrated in a very short space of time. With an advanced inertial engine, the F180 series is extremely stable and can maintain its high precision of motion output data even following tight vessel turn lines.
Within the range of models that make up the F180 series there are capabilities to enhance the solution by using a number of corrections including RTK (down to 1 cm), DGPS, SBAS (WAAS/EGNOS) plus direct connection to receive the MarineSTAR correction signal in our F190 and F190+ systems.
Further enhancements to the heave output in order to remove low period swell, can be done using the iHeave software component. Running in near real time, iHeave is an intelligent heave processing module that will not only remove low period swell artefacts, but can be used to remove other heave noise incurred during tight turns and the like.
With a range of models to suit most budgets, the F180 series supplies reliable and smooth position, heading and motion data to the offshore industry.
Features
Survey grade GNSS, gyro, attitude and heave sensor in one box
High accuracy position, heading, heave, pitch and roll at up to 100Hz
Tightly integrated GNSS and inertial components result in increased accuracy and reduced settling times when compared to outputs from separate sensors
Continuous output during GNSS dropouts
Compatible with HYPACK®, QINSy and other navigation packages
Standard formats and interfaces
iHeaveTM (intelligent heave processing) available as standard for improved heave accuracy
Intuitive MOTION Control software included as standard
Optional upgrade to GLONASS or Pre-calibrated housing
Optional INSightTM software allows for generation of post processed solution