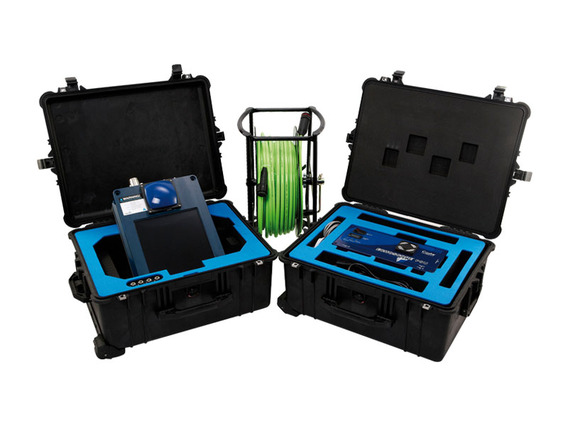 Coda Octopus Echoscope
Availability: Rental
Echoscope is the world's highest definition real time 3D imaging sonar.
By generating over 16,000 beams per acoustic transmission and with a frame rate of over 10 pings per second, Echoscope® sonars provide unique underwater 3D acoustic movie imagery. Viewing the subsea scene in real time using patented 3D rendering techniques allows for immediate decision making during underwater positioning projects, whilst maintaining a measureable dataset for mapping purposes.
Used in a number of applications ranging from Port Security, IRM (Inspection, Repair and Maintenance), and cable or mattress laying through to marine construction and ROV intervention work, the Echoscope has proved to save vessel time and increase productivity during zero visibility subsea conditions.
Compact and portable and with the choice of either single frequency or dual frequency systems, the Echoscope can be rapidly deployed on vessels using an over-the-side pole mount or alternatively integrated onto a number of different ROVs or AUVs.
Each Echoscope 3D sonar is supplied with the modular USE (Underwater Survey Explorer) topside software package which can integrate the sonar to a number of auxiliary sensors like motion, heading and positioning systems.
The combination of Echoscope and USE software with their unique and patented capabilities is changing the mode of many subsea operations around the globe.
The Echoscope can be supplied in OEM form for integration with subsea vehicles to perform unique 3D inspections and surveys. CodaOctopus can supply technical integration packs and consultancy to allow the client to seamlessly integrate the Echoscope.
Features
High definition 3D sonar image generated in real-time
Mosaicing capability
Displays complex moving structures accurately
Accurate even in turbid water
Suitable for installation on vessels, ROV, barge or crane
Accurate geo-referenced data
Versatile DTM output options
Very easy to use even by non-sonar experts such as crane operators and law enforcement officers