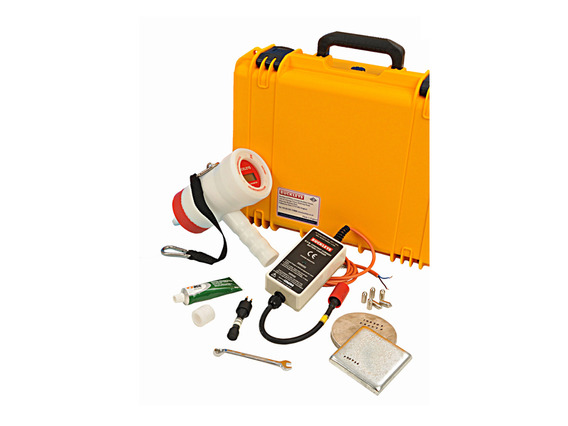 Buckleys Bathycorrometer
Availability: Rental
The Bathycorrometer® is a well-proven inspection tool for measuring the levels of corrosion on sub-sea structures. Light and easy to use, this hand-held unit enables divers to obtain accurate readings of the corrosion potential levels of structures at the point of contact.
The first Bathycorrometer® unit went into rigorous North Sea service in 1971. Customer satisfaction with the performance of Bathycorrometers® has led to specified use, worldwide. The current model retains the features of the original Roxby unit but with the addition of modern electronics. It can also be connected to a Surface Display Unit (SDU), which provides a top-side verification of readings.
Bathycorrometers® are used for polarisation, corrosion and interaction surveys, in particular as part of the commissioning check or inspection of production and drilling platforms; sub-sea pipelines; ships' hulls; jetties and other marine works.
Standard Kit (Ref: H1) comprises:
Buckleys Bathycorrometer, battery charger, 6 x hardened stainless steel probe tips, Probe tip spanner, Silicone grease, Zinc and Magnesium test blocks and comprehensive instruction manual, all contained in fitted carrying case.
Features
Illuminated digital display
Facility for adding remote monitoring
Single handed and light
Simple to use and maintain
Robust and inert housing
Suitable for use in deep water – up to 350 metres
Easily replaceable half cell
Supplied with calibration certificate
Kit includes Zinc and Magnesium test blocks