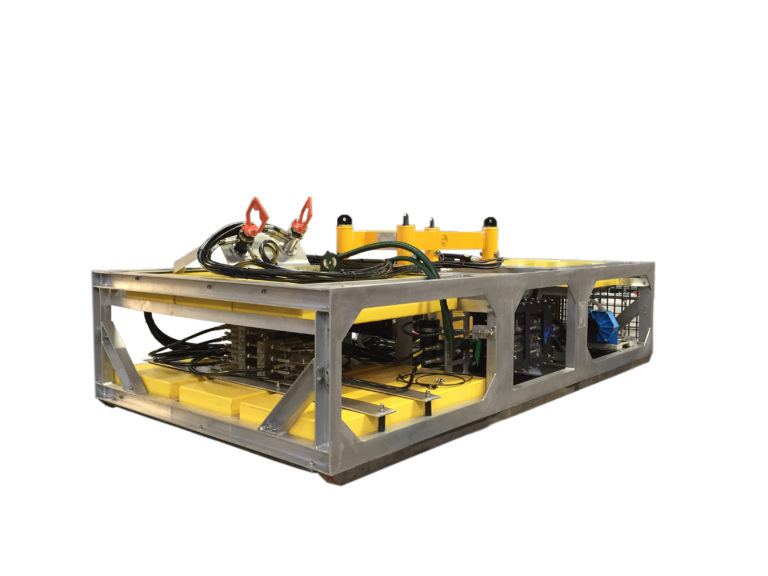 6 port Multi-Fluid Injection skid
Availability: Rental
The 10,000psi Fully Proportional Injection System (FPIS) has been designed specifically for pressure testing applications on subsea manifolds.
The 6-Output Station is a fully isolated media pumping unit which allows the user to be able to supply a separate media at varying flows up to 8.7 lmin and varying pressures from 0- 10,000 psi (690 bar).
It gives the user the ability to proportionally adjust the pressure and verify it before selecting one of the 6 outputs to send it to.
With the valve selected, the line will be pressurised to the correct pressure. Pressure will then be locked in by the check valves until depressurisation valve is activated.
The IHPU 6-Output Station also gives the ability to supply 6 different pressures locked in at the same time.
The system is ideal for subsea pressure testing, valve actuation, cylinder actuation etc.
The system is connected to a 12-station proportional valve pack and 65L reservoir. There is also a built in Totalising Flow meter that links into the software, so the operator knows exactly how much fluid has been injected.
The IHPU 6-Output Station has an adjustable Low Pressure (LP) function, where you can pilot the LP side and restrict pressure to complete IHPU 6-Output Station to pressures as little as 50 psi (3.5 bar) – 350 psi (24 bar). IHPU 6-Output Station can pump all glycols, seawater and mineral oil and methanol.
The reservoir port can be connected to any type of subsea compensator, whether it be a passively compensated reservoir or positive compensator
The pump can be connected to any subsea reservoir by the suction port (12 JIC).
We can supply various sizes of soft reservoir and piston reservoir with an electronic readout depending on requirements.
Features
Full proportional pressure control.
Adaptable – can control multiple outputs.
Robust design.
Different pressure and flow options available.
Multi-Purpose Skid.
Flow monitoring for accurate injection rates.