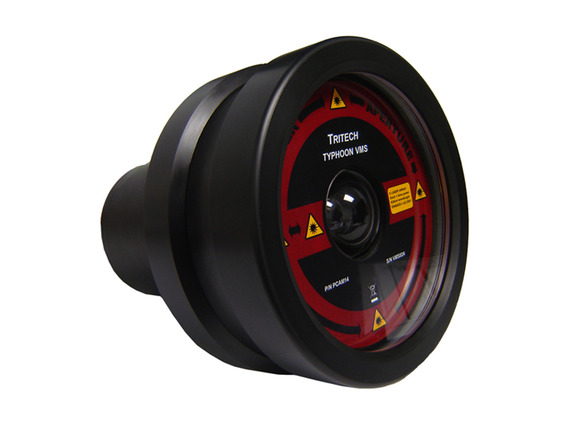 Tritech Typhoon VMS
Availability: Rental
The Typhoon VMS (Video Measuring System) is a new state of the art Tritech product. It is designed to give measurements to milimetric accuracies of any target in the camera's field of view.
At the heart of the VMS is Tritech's Typhoon high resolution colour zoom camera. Five red laser diodes surround the camera and up to the maximum range of the camera are clearly visible on the operators monitor.
The system software is calibrated by selecting each laser image on the display after which the software allows measurement within a few minutes of any object in the field of view.
The Typhoon VMS encompasses a 22:1 auto focus zoom lens within a 3000m housing. Manual focus and zoom may be controlled using conventional signals or via the integrated RS232 interface.
The importance of a high quality view port is commonly overlooked in underwater cameras. The acrylic view port used on Tritech cameras has similar refractive properties to water enabling the use of a plano-concave view port, which is the preferred type of lens for deep water applications.
This view port design reduces the effects of refraction and also removes chromatic aberrations, resulting in a camera that provides a clear and sharp picture during close proximity viewing. This is absolutely essential for accurate subsea metrology.
Features
High quality camera and laser combination
Millimetric accuracies.
470 line resolution, 0.1 lux sensitivity
Water corrected view port
Distance and scaling measurements
User friendly PC software
3000m depth rating
PAL or NTSC options
CONTACT General sales enquiries
+47 52 81 47 60 (24 hour)