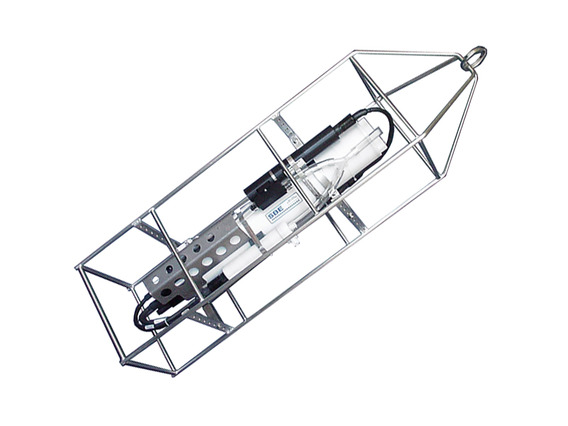 Seabird SBE 19plus Profiler CTD
Availability: Rental
The SBE 19plus V2 (Version 2) SeaCAT Profiler measures conductivity, temperature, and pressure (depth) and provides high accuracy and resolution, reliability, and ease-of-use for a wide range of research, monitoring, and engineering applications. The pump-controlled, TC-ducted flow configuration minimizes salinity spiking caused by ship heave and allows for slow descent rates without slowing sensor responses, improving dynamic accuracy and resolving small scale structure in the water column.
Compared to the previous 19plus, the V2 incorporates an electronics upgrade and additional features, with six differentially amplified A/D input channels, one RS-232 data input channel, and 64 MB FLASH memory. An optional Digiquartz® pressure sensor provides highest-accuracy pressure measurement. Data can be output in XML as well as ASCII and HEX formats. Firmware upgrades can be downloaded through the communications port, without opening the instrument.
The 19plus V2 samples continuously at up to 4 scans per second (4 Hz) (2 Hz with Digiquartz®), is battery-powered and self-recording, and is commonly used in the field without a computer, recording up to 1000 individual profiles. Data can be uploaded and processed later, as well as transmitted to a PC in real time for acquisition and display using Seasoft software provided (cable length dependent on number of auxiliary sensors, sampling and baud rate, and cable properties). The 19plus V2 can supply power to 7 external sensors and log their outputs with each CTD scan. Nine D-size alkaline batteries provide up to 60 hours of continuous operation when logging C, T, and P at 4 Hz.
The 19plus V2 is easily integrated with an SBE 32 Carousel Water Sampler and is ideal for integration with the SBE 55 ECO Water Sampler. Both real-time and autonomous auto-fire operations are possible with any Sea-Bird CTD / Water Sampler system.
In moored mode, the 19plus V2 records time series measurements at user-programmable intervals (10 seconds to 4 hours). Moored mode is easily configured with setup commands and by removing the profiling T-C Duct and installing optional anti-foulant devices. (If profiling not needed, the 16plus V2 SeaCAT Recorder offers greater moored-mode flexibility.)
CONFIGURATION, OPTIONS, AND ACCESSORIES
A standard SBE 19plus V2 is supplied with plastic housing for depths to 600 meters, strain-gauge pressure sensor, 64 Mbyte FLASH RAM memory, alkaline batteries, glass-reinforced epoxy bulkhead connectors, SBE 5M miniature pump with plastic housing, and T-C Duct.
Options and accessories include:
Titanium housing for depths to 7000 meters, and SBE 5M miniature pump with titanium housing for 7000 meters
Wet-pluggable MCBH series connectors
SBE 5P (plastic) or 5T (titanium) pump in place of SBE 5M for use with dissolved oxygen and/or other pumped sensors
Digiquartz® pressure sensor
Stainless steel protection cage (For typical cage, see drawing 22009 for 19plus V2 with strain-gauge pressure sensor or 22010 for 19plus V2 with Digiquartz pressure sensor. For ice cage, see 22149 and photo on Gallery tab.)
Auxiliary sensors for Dissolved Oxygen (SBE 43 DO Sensor), pH* (SBE 18 pH Sensor or SBE 27 pH/ORP Sensor), fluorescence, radiance (PAR), light transmission, and optical backscatter (turbidity)
Plastic shipping case
Nickel Metal Hydride (NiMH) batteries and charger
Moored mode conversion kit with anti-foulant device fittings
Load-bearing underwater cables for hand-hauled, real-time profiling
SBE 36 CTD Deck Unit and Power/Data Interface Module (PDIM) for real-time operation on single-core armored cable up to 10,000 meters
* pH sensor for integration in Profiling mode only; not applicable to Moored mode
SOFTWARE
The SBE 19plus V2 is supplied with a powerful Windows 2000/XP software package, Seasoft©V2, which includes programs for communication and data retrieval, real-time data acquisition and display, and data processing (filtering, aligning, averaging) and plotting.
Features
Conductivity, Temperature, Pressure, and up to seven auxiliary sensors.
User-programmable mode: profiling at 4 Hz, or moored sampling at user-programmable intervals.
RS-232 serial interface, internal memory, and internal batteries (can be powered externally).
Pump-controlled, T-C ducted flow to minimize salinity spiking.
Depths to 600 or 7000 meters.
Adds to Sea-Bird's SeaCAT family, field-proven since 1987.
Five-year limited warranty.
CONTACT General sales enquiries
+47 52 81 47 60 (24 hour)