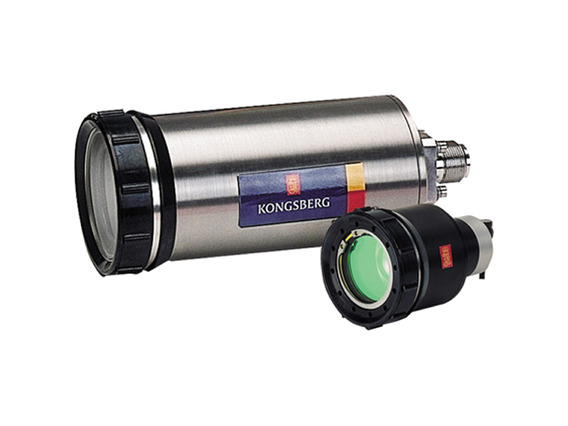 Kongsberg OE-2800
Availability: Rental
Our OE2800 Fluorescein Dye Detection Package allows for easy detection of leaks during integrity testing and is based on the highly successful OE14-366 Colour Zoom Inspection Camera and the OE11-135 Mini Underwater Lamp. Modification of the light wavelength response of the camera allows the camera to only detect the wavelength of light corresponding to the dye fluorescence. Modification of the colour temperature output of the lamp allows dye to fluoresce when illuminated.
The OE14-366F/367F Colour Zoom Camera uses the latest Hyper-HAD solid state sensor to provide excellent light sensitivity and image definition and has been designed to offer maximum performance and flexibility for ROV inspection tasks. It enjoys all of the features of our standard OE14-366/367 camera but has been adapted to detect the wavelength of light emitted by Dye when excited.
The OE11-135F is a compact high power lamp enjoying most of the features of the OE11-135 but has been adapted by the incorporation of a filter system which modifies the lamp colour temperature. This modified output allows Fluorescein Dye to fluoresce when illuminated.
The system is supplied with a baseplate to ensure that convergence of the lamp beam and camera field of view occurs at around 2 metres. This innovative solution to leak detection offers significant improvements in detection speed and operational costs. A variation of the system for diver use is also available.
Features
1 off OE14-366F/OE14-367F Underwater Camera
2 off OE11-135F Underwater Lamp
Baseplate
12:1 Zoom
Adapted Colour Temperature
Pressure Balanced
Quick Detection
Leak Detection
Cost Effective
Rapid Deployment