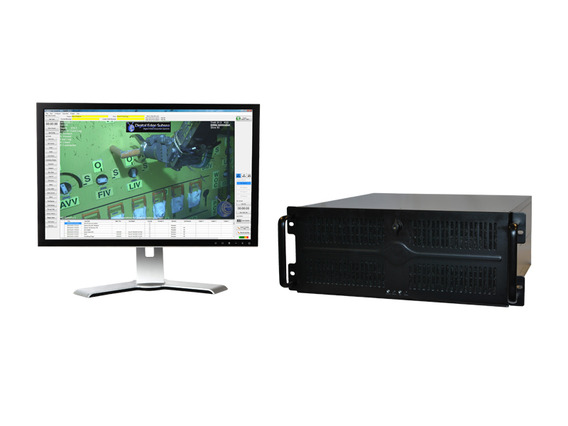 Digital Edge Subsea EdgeDVR-1SD
Availability: Rental, Sale
The EdgeDVR-1SD is a single channel standard definition (SD) digital video recorder (DVR). The EdgeDVR is primarily for use in the offshore oil and gas subsea market. It is generally used for daily ROV operations, both eyeball and work class or diving. Being single channel it can display and record one video channel at a time. However the EdgeDVR includes a built in video switcher, so the operator can easily switch between one of the four video inputs. Switching can even be done within a video recording.
There is a black box recorder integrated into the EdgeDVR, so whenever a dive is open, video is recording. Taking videos, video clips or stills is extremely easy and the whole user interface is designed for ease of use by the operator by experienced ROV pilots and 3.4u inspectors.
The EdgeDVR includes a drag and drop overlay and can take in up to 4 survey or serial data feeds. Built in eventing and automatic generation of dive, anomaly, video and photo logs.
Each project includes the free EdgeViewer so the client can easily view all the data, video and photos in an integrated way.
Digital Edge Subsea also produce an optional Peli transport case for the EdgeDVR, to ensure the video recording system is kept in a top condition whilst in transit or Storage.
Features
Standard Definition Digital Video Recording (WMV)
Digital Overlay
Realtime Eventing
Built-in 4 Way Video Switcher
Digital Stills (Jpeg or Bitmap)
Video Clips (WMV)
Automatic dive, photo, video and anomaly logs
Project Editor
Client Viewer
Realtime data logging
4 Serial ports for the display/logging of data
3 x 3TB Removable Hard Drives
Automatic Blackbox Recording
Solid state operating system drive